Back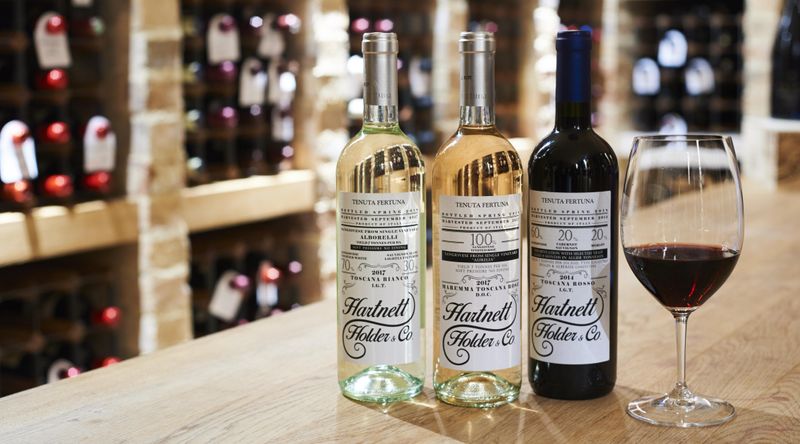 Hartnett Holder & Co Wine - case of 6
Hartnett Holder & Co's own label wines have been lovingly crafted in collaboration with Fertuna Estate, based in Maremma in Tuscany - an area with great wine-making potential that is fast becoming known for its high-quality wines.
This product contains alcohol. By purchasing this product, you confirm that you are 18 years of age or over.
Hartnett Holder & Co Red 2018 – 70% Sangiovese 20% Merlot 10% Cabernet Sauvignon, 14% abv
Bright red fruits and a shot of vanilla are enveloped in toasty oak and layers of spice all supported by velvety tannins and superb length. The ideal companion for cured and stewed red meats, game, guinea fowl and mature cheese
Hartnett Holder & Co White 2019 - 70% Sangiovese 30% Sauvignon Blanc, 12% abv
Intense, yet delicate, with light notes of garden herbs and white fruits. Fresh and dry with a lovely streak of minerality, a long aftertaste and crisp acidity. Great with fish appetizer and fresh fish in general
Hartnett Holder & Co Rosé 2019 - 100% Sangiovese, 12% abv
Light, bright and crisp with white peach and redberry tones. Slightly more redcurrant than the classic Provence style and less herbaceous
Available as a case of 6 bottles of red, white or rosé, or a mixed case of 6 bottles with 2 bottles of each HH&Co wine included.
You can also purchase single bottles or cases of 6 from Lime Wood, it will always be in stock.
Packaging and delivery
When you checkout, you'll be able to choose from the following delivery methods.
If your order contains wine and gift vouchers together, your gift vouchers will be packaged in a presentation envelope, rather than a gift box.
Free courier delivery

Free